YAY AUTUMN! Like every other basic girl out there, I am a huge fan of this season. I am basically a beacon of excitement for this time of year–we've got THE BEST things to look forward too; Halloween, Bonfire Night, and obviously Christmas. When I saw my friend (and one of my favourite bloggers) Jenniely had created her very own autumn tag, I knew I had to take part! Here we go:
1. Hot Chocolate – what is your comfort book?
Like Jenn, the first thing that comes to mind is Harry Potter. Its back-to-school vibes and Scottish setting just scream autumn to me. The other books I find (weirdly?) comforting this time of year are good cozy mysteries. At the moment, I'm on a Miss Marple binge. I LOVE HER SO MUCH. She's equal parts sassy and adorable and I adore how she defies expectations in every case she undertakes.
2. Pumpkin Carving – what is your favourite creative outlet?
Writing stories. And in autumn, when the air is crisp and with a steaming mug of tea by my side, it's perfect story spinning weather.
3. Falling Leaves – changes that appear bad but you secretly love?
OOOH, this one's a little ambiguous! I'm pretty rubbish with almost all change. Even when its a good change, I find it really stressful. I'm a creature of habit through and through. So for me, all change appears bad initially and it takes me a little while to adjust.
4. Pumpkin Spiced Latte – something you love that others tend to judge
I ADORE SO-BAD-IT'S-GOOD MOVIES. You know the ones that are ridiculous and cheesy and completely implausible?–well making fun of those is a favourite hobby of mine.
5. Bonfire Night – what makes you explode with joy?
Right now, it's the fact that in exactly three days we're bringing home a puppy! This is Tilly, and I AM SO EXCITED.
6. Fright Night – favourite scary book or film
I'm a wimp, so all of my favourite Halloween movies are aimed at kids. I always rewatch Hocus Pocus, A Nightmare Before Christmas, Coraline, and Beetlejuice every year.
7. Halloween candy – favourite thing to eat
Something warming, like apple crumble or toffee sticky pudding.
8. Scarves – your autumn 'must have' accessory
Can earth tones be an accessory? If so, definitely earth tones. I basically dress like a hobbit in autumn.
9. Fire – a book or film that burns your soul
Anne of Green Gables. Both the book and the 1970s TV adaptation. GILBERT BLYTHE 4EVA.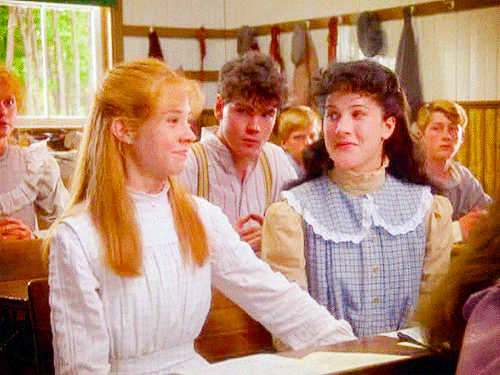 10. Toffee apples – a book or film that seems one thing but really has a different inside
Hmmm, this is a hard one. I think I'm going to with Romanov. I went into it expecting a Tsarist historical novel, but the magic is weaved in such an imaginative and creative way and I LOVED this take on historical fantasy.
I tag: